Zytech Solar is a Spanish manufacturer of photovoltaic modules designed to produce electricity from sunlight. Our main products are aimed at solar photovoltaic energy: PV modules, concentrated photovoltaics (CPV) and off-grid PV systems.
Zytech's added value resides in the development, design, manufacture and marketing of photovoltaic products and systems which adapt to the specific needs of each project.
Zytech was founded in Zaragoza (Spain) in 2005. Since then the group has progressively increased its infrastructure and production capacity to become a global company with offices and headquarters in Spain, Germany, India, Taiwan, France, Italy, Benelux & USA.
I Manufacture of Photovoltaic Modules
Zytech Solar PV modules are manufactured on our own assembly lines and those of our sister companies in accordance with the market's most stringent quality standards and using only state-of-the-art industrial machinery.
Zytech uses the highest quality and most efficient mono-crystalline and poly-crystalline silicon cells in its modules to offer an extensive power range from 2 W up to 320 W.
Zytech modules are used in both off-grid photovoltaic installations (rural electrification, water pumping systems, telecommunications, lighting, etc.), as well as in grid-connected systems (solar farms, industrial roofs, houses, etc.) and can be installed on buildings, roofs, car parks, warehouse roofs and fixed structures.
Zytech modules are tested by TÜV and certified according to IEC 61215 Edition 2 and IEC 61730.
Zytech EPC is a fully-integrated player in the global photovoltaic market focused on Asset Funding & Placement, Development, EPC, O&M Service and Trading.
Supported by a proven track record and true worldwide presence, the company provides 360o turnkey solutions adapted to each customer's individual needs.
Zytech EPC has built a global reputation by deploying outstanding price- performance ratio solar plants that exceed customer expectations, transforming solar energy into green assets by maximising value and mitigating risks.
Our recognised capabilities across the entire value chain enable us to manage all phases of the solar development cycle, from market and site identification to the grid connection and subsequent plant operation.
Zytech Solar is a Spain-based company with presence in more than 20 countries over 5 continents and has implemented around 170 MW of solar energy all over the world.
Zytech Engineering, Procurement and Construction Services
1 | ENGINEERING
We design solar plants with optimum PV output committed to achieve the most affordable levelled cost of electricity in any region of the globe.
2 | PROCUREMENT & PURCHASING
We are able to negotiate and supply bankable technology of key providers and services suitable to the project at the best terms possible.
3 | PRODUCTION
In one of the most advanced production lines in Europe, which is completely automated and robotised, we produce our awarded PV modules and patented R&D+I solutions.
4 | PROJECT MANAGEMENT
From A to Z, we plan the whole process taking care of every detail to guarantee the utmost project completion.
5 | CONSTRUCTION
We manage referenced contractors to build the project, assuring the highest level of quality within the time and cost deadlines, in total compliance with local regulations.
6 | COMMISSIONING
Zytech Solar carries out several commissioning tests to make sure that each power plant operates as designed and performs as expected.
ASSET FUNDING & PLACEMENT Raise funds for projects in development by the company in different continents, providing the most appropriate type of capital.
DEVELOPMENT Originate the almost PV investment's
portfolio in the RES sector, enabling them with affordable
and competitive power solutions, that consistently delivers
best returns to our satisfied customers.
EPC To perform a Full-Service EPC, undertaking PV projects from one single point of contact.
O&M SERVICE Benefit from local support of managing more than 600 MW across Europe, Asian and Pacific, Middle East and the Americas.
TRADING  as the brand of the company, Zytech Solar is used for activities in Trading, Distribution and Procurement of products at the best market prices in the photovoltaic sector.
Operation Management
I Operation reporting;
      I Full monitoring and supervision by OMC;
            I Incidents management.
Maintenance Management
I Maintenance management and reporting;
     I Preventive maintenance optimizing;
          I Corrective maintenance;
               I Claiming and warranty management;
                    I Stock management & procurement.
Experts pooling and support
I Thermograph inspection (ITC Certified);
     I Medium-power and SCADA experts;
            I PV modules manufacturer's competences;
                  I Engineers trained by inverters manufacturers;
The company provides its clients with complete Solar O&M service to maximize the performance ratio of its PV installations across the globe. We monitor and supervise any solar project worldwide with an awarded multi-technology platform from our Operations Management Centre, which you can test at our Energy Portal.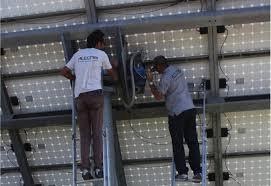 ZYTECH SOLAR has devoted O&M field teams to ensure the maximum production, and constantly look for ways to optimise each photovoltaic asset's return, either built by Zytech Solar or 3rd parties. Our satisfied customers have positioned our PV O&M Service as one of the most trusted in the PV market. As your O&M partner, we will protect your asset and maximize your return.
ON-GRID-CONNECTED INSTALLATIONS
In a growing number of countries there are government regulations which provide incentives for photovoltaic energy production via production premiums, tax incentives or electricity bill discounts. In these cases, the photovoltaic installations are connected to the grid and the energy produced is fed in and consumed at the nearest consumption points. This means that the energy is produced and consumed locally, avoiding unnecessary losses during grid transport.
Zytech modules are ideal for grid-connected installations given their high robustness and reliability, as well as their excellent value for money, which allows you to get the most out of your investment in any project from day one:
– Solar Photovoltaic Farms
– Photovoltaic Installations for Industry, Commercial
– Institute, Agricultural and Livestock Roofs
– Domestic Installations
– Building Integrated Installations
Site-Feasibility Studies
Finalization of site location
Acquisition of land
Land document
Ensuring site availability of all times without hassels or hindrances for peaceful execution of project
Geotechnical site survey (Soil/Resistivity test, final coordinates)-Soil investigation
Land levelling/Compacting
land clearing
(Sunsimulation Report)
Liaisoning & Approvals
Land registration / Conversion
Stamp duty for land
Local state Govt.project registration
Power evacuation permission from local Discom
SLD approval from local electricity authority agencies
bay booking at local substation
Facilitation of power sale
PPA Execution
Detailed Project Report-Technical
Approval for grid synchorization if required
Final Completion Certificate
Conmmissioning certificate from Govt
Corporate Social Responsibility at site
Preliminary
Basic Engineering of Plant
Submission of BOQ with offered makes,SLD and Pvsyst report
Finalization of EPC contract document
Detailed Engineering
Preparation of all drawings-Civil,mechanical and electrical
Submission of drawings and documents list
Submission of technical data sheet of all equipment
System sizing calculations
Quality assurance plan
As built drawings and O & M Manuals
Project handover documentation
Procurements
Procurements of central inverters Structural fabricator, Dc cables, AC cables, Step up transformer, LT,HT panels, Scada systems, Data log monitoring, Lighting Arrestors, Securit system, Other electrical accessories
Finalizing contractors for civil, electrical, module mounting, structure mounting etc
Project Construction Activities
Water and Power supply for construction
Office and infrastructure for construction
Storage and other temporary constructions
Civil Works
Security cabin, prefabricated 4x3 feet
Mounting structure foundation
Transformer foundation
Outdoor switchgear foundation
Transformer yard fencing and gravel laying
Trenches for DC cable laying
Trenches for AC cable laying
Trenches for communication cable laying
Plant perimeter fencing (chain link type)
plant internal road from main gate to control room(WBM only)
Main gate
Water storage tank
Rain water drain system
Main control room / Inverter room
Mechanical Works
Structure for module mounting
Structure for string monitoring box
DC Electrical system
Fixing of solar modules
Solar cable-From module to string combiner box
MC4 compatible connectors
Conduits for burying unarmoured solar cable
DC cable (Al) from string combiner box to inverter
Cable terminations as per the scope above
AC Electrical System
Installation of step up transformer
Ac cable (Al) from transformer to RMU / switchgear
Ac cable (Al) from RMU / switchgear to Evacuation point
Cable termination and Auxiliaries
Switchgear at main evacuation point
Battery backup for all switchgears
Metering switchyard as per SEB specifications (includes CT, PT, main and check ABT meters and required protection equipment)
Transmission line if required
Substation bay at GSS if required
Protection System
Earthing strip grid for MMS
Chemical type maintenance free earthing electrode for the scope mentioned above
Equipment earthing restricted to scope as mentioned above
Lightning Arrestors for DC
Auxiliary System
Auxiliary transformer for plant power supply
Auxiliary power distribution system
Main control room electrification
Security room electrification
Plant lighting (Solar street lights @ 200nos only)
Auxiliary power cables and accessories
Monitoring System
Data log monitoring system
Weather station
Internet connectivity
Security System
Fire / smoke detect system for inverter / control system
Security System (Plant surveillance camera)
Water Supply
RO Plant for water treatment if any required
Piping arrangement for module cleaning system
Water pump with accessories
Drilling of one tube well
Miscellaneous
Control room accessories and operator furniture
Fire Extinguishers and electrical safety items
Consumables (Paint, Cleaning, accessories)
Control room furniture
Testing and Commissioning
Inspection of equipments
pre-Commissioning tests of items in the scope of Waaree
System commissioning as per the scope mentioned above
On-site training and system handover to client for the scope mention above only
Operation & Maintenance
O & M Spares
Power sale billing and payment collection
The simplest and most reliable way to put solar to work at your home or cottage is a Home Energy Solution! These kits are designed for fast, easy and fully code compliant installations. With features such as quality ZYTECH solar modules, strong solar mounting systems and battery charge protection, you'll have the very best equipment in an integrated solar power system. Larger packages come complete with DC-AC inverters, allowing full integration with generators and home wiring. Safe, secure and reliable!
As an inclusive EPC provider, Zytech is able to retain their position as a single point of contact for all solar energy projects. Zytech in-house team of experts strive to maintain the highest standards in reliability, extendibility and low failure rates. Zytech comprehensive experience ensures cost effective implementation solutions for even the most complex projects. Zytech has the ability to deliver projects on-budget and on-time due to our immense experience providing construction services for a wide variety of applications. Zytech has implemented power systems for Institutes, IT's, MNC, Telecom, Oil and Gas, Environmental monitoring, Educational and remote living.
Building Integrated (BIPV)
The  construcion  industry  is  increasingly  seeking  buildings  with  energy  self–suiciency  and  energy  savings,  whilst  maintaining aestheic integraion of the installaions. In addiion to its standard modules, )ytech ofers special glass–glass modules for building integraion for a range of applicaions: facades, roofs, shades, skylights… )ytech's special modules are normally manufactured to order based  on  the  technical  and  aestheic  requirements  of each  project and  will  improve  any project's  thermal and  acousic insulaion.
| COUNTRY | POWER |
| --- | --- |
| Spain | 20 MW |
| Germany | 18 MW |
| France | 10 MW |
| Belgium | 1.5 MW |
| Italy | 15 MW |
| Africa | 2.5 MW |
| South America | 2.5 MW |
| Other countries | 2 MW |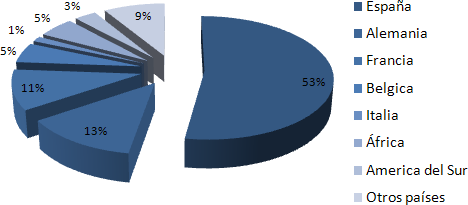 • Fortune 500 clients such as ABB and ACS-Maetel.
• A significant number of orders from satisfied repeat clients.
• Recognition and presence in key FV markets such as BENELUX, France, Germany, Italy and Spain
give Zytech an advantage over European and Asian manufacturers.
| CLIENT | PROJECT | LOCATION |
| --- | --- | --- |
| Hierros Alfonso | 0.4 MW | Zaragoza |
| Cesfer-10 | 1.5 MW | Toledo |
| Cesfer-10 | 1 MW | Toledo |
| Gaia | 1.1 MW | Totana |
| Zona Solar | 2 MW | Granada |
| Tabuenca | 1.2 MW | Zaragoza |
| ACS – Maetel | 2.3 MW | Zaragoza |
| SOLARIA | 1.1 MW | Cáceres |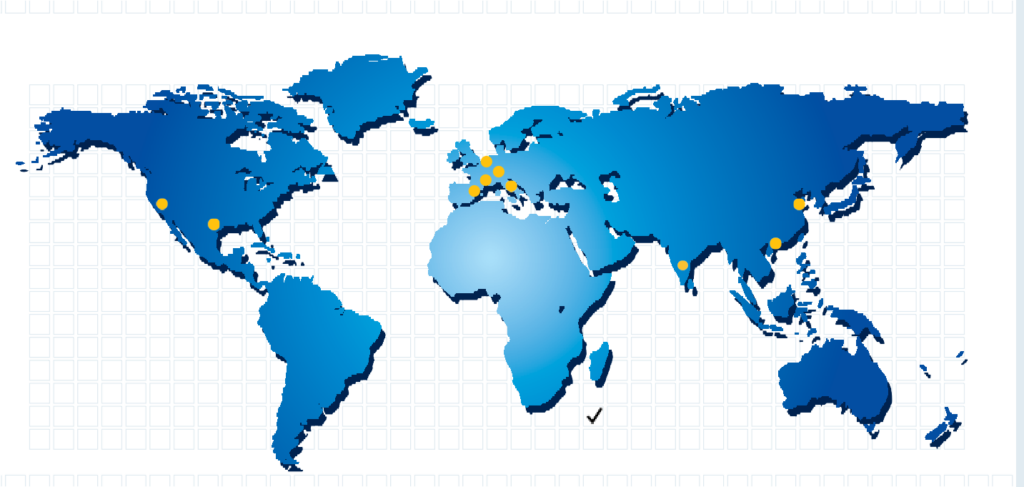 Zytech Group. Renewable Energy Systems and Products
Photovoltaic Modules (PV)
Concentrated Photovoltaics
Building Integrated Photovoltaics (BIPV)
Off-Grid Solar and HyArid Systems
Mini Wind Turbines
Solar Streetlamps
Solar Thermal Energy Systems
Electric Vehicles